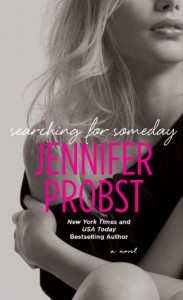 I received an ARC of this book from Netgalley in exchange for an unbiased review.
I really enjoyed
"Searching for Someday"
—much more than I thought I would. I primarily read young adult and new adult books since those are the genres I write, but this was a nice change up.
I really loved the idea of the "touch" and the matchmaking company combined. It was a cute idea and the author pulled it off wonderfully without making it too cheesy.
I liked the characters, although sometimes I found Kate's interactions with Slade a little too uppity, but it really fit the story so it was easy to overlook and I still loved Kate. She seems to have it altogether, but she has issues that run deep. She's loving and loyal to her friends and she has a huge heart, and we see that in her relationship with Robert. Robert was one of my favorite "people" and his and Kate's relationship was a great one and held a lot of meaning in the story; it was very touching.
Slade is cocky and a little arrogant. Mostly in a swoony way, but not always. He has an ego to match the six-pack he's rockin'. I liked him a lot. He made me giggle a few times. But he's got depth beyond the cocky, lady-killer exterior. He's fiercely loyal and protective of those he loves, and I think that's what makes him so easy to like.
The secondary characters blew me away. I LOVED them. Usually secondary characters are shoved into the background and we see very little of them. That is somewhat true here, but the secondary characters play a bigger role in this book than most and I loved them all, especially Kate's mother. I wish she would have played a bigger role in the book. She was hilarious and completely zany. It was almost impossible not to fall in love with her. If I had to pick a flaw of
"Searching for Someday"
it would be that I wanted more of Kate's mom.
Overall, I thought the writing was great. The character development was excellent. They were flawed and imperfect, just as people are. I rooted for the main characters even when I was so frustrated with them I wanted to reach into my Kindle and strangle them both (that's a good thing for me). I like it when an author can pull me into a book and make me care what happens to the characters enough that even when I want to knock their heads together, I still love them enough to keep reading.
Bottom line:
A fun, cute, and funny read. I enjoyed it a great deal. Worth your time.
Five stars!